Flipcharts
Flip Charts come in all sizes and frames, Great for offices, schools and home.
Features
Magnetic Whiteboards.
Tripods, wheels or universal frames.
Adjustable Heights.
Easy to travel with.
Carry cases available.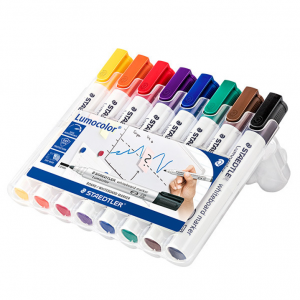 This 8 pack of Staedtler Whiteboard Markers is ideal for the classroom, workplace or home. These remarkable markers won't dry up if left uncapped for days at a time.
Colours: yellow, orange, red, purple, blue, green, brown and black
2 mm bullet tip
Long lasting
High resistance to evaporation
Can be dry-wiped without leaving residue on whiteboards and smooth surfaces like glass and porcelain
Toluene and xylene free